The Binibining Pilipinas Pageant is celebrating its 50th beautiful year. With its contribution to renowned international beauty pageants and the entertainment industry through its roster of gorgeous and intelligent beauty titlists, Binibining Pilipinas has easily become a household name the moment it came into existence.
Before the initial Binibining Pilipinas competition, aspiring lovely young women joined Miss Philippines, a contest that selected the lucky Filipina to represent her country at the Miss Universe Pageant each year since 1952. When 1960 Miss International Stella Marquez-Araneta started the Binibining Pilipnas Charities, Inc. (BPCI) after earning the local franchise for Miss Universe in 1964, things have never been the same.
First Man on the Moon hails First Filipina Miss Universe
Without a doubt, then 18-year-old Gloria Diaz's triumph as the official most beautiful girl in the universe in 1969 brought inimitable honor to Filipinos and added to Binibining Pilipinas' splendor.
Shortly right after the coronation, Astronaut Neil Armstrong, the first man to land on the moon who was still in outer space at that time, was interviewed on TV. Armstrong asked the interviewer what the latest was on earth. The interviewer replied, "For the first time, a Filipina, Gloria Diaz, won the Miss Universe title." This interview which was broadcast via satellite made Gloria even more popular around the globe.
Miss Universe, with meaning
It didn't take long for another Filipina to follow in Gloria's footsteps. Margie Moran, an attractive colegiala, managed to attain an equally unforgettable feat by winning the Philippines' 2nd Miss Universe title, and the Miss Photogenic award to boot, in 1973.
"Let's make believe that all of a sudden you had a million dollars. What's the first thing you would buy and why would you buy it?" was the question that paved the way to her victory. Marge, in her usual well-refined tone answered, "A house and lot because it's the most important thing and I can't afford it. If I had a million bucks, I'd buy a house and lot and live by myself and other people, of course."
Today, this classic and regal beauty lives in Davao where she manages a high-end resort called Pearl Farm with her husband, Antonio Floirendo, who served as Congressman of Davao Del Norte. Margie has a slew of advocacies under her belt including Habitat for Humanity, Ballet Philippines, Mindanao Commission on Women, World Wildlife Fund, and Marge on the Move which is a mobile community library project which aims to educate children from underprivileged communities.
Miriam Quiambao Trips and Wins First Runner Up
Yes, she fell during the 1999 Miss Universe Pageant in Trinidad and Tobago, and our hearts ceased to beat for a few seconds. But like a queen, she got up and continued walking like nothing happened. Her unfaltering poise all throughout the competition reaped praises here and abroad. Miriam, now one of the most versatile TV hosts, walked away with the 1st Runner Up title.
Aurora Pijuan Sets a Record for the Philippines
St. Scholastica's College graduate and Miss International 1970 Aurora Pijuan's success put the Philippines on a pedestal as the first country to win the Miss International title twice. The first Filipina Miss International was Gemma Cruz Araneta in 1964.
After winning the Miss International crown in Osaka, Japan, Aurora married basketball coach and golfer Tomas Manotoc. The union produced a son, TJ Manotoc, now a well-know sportcaster with ABS-CBN, and a daughter named Mavis. Currently, Aurora lives a happy and fulfilled life, immersing herself in various causes like Gawad Kalinga.
Melanie Marquez: Substance Over Grammatical Precision
Supermodel and actress Melanie Marquez who represented the Philippines in the 1979 Miss International Pageant in Japan at the age of 15 was the first one to prove that one's chances of becoming a beauty queen doesn't have to rely on her fluency in a specific language, but on her potential to inspire humanity.
In the question and answer portion, Melanie was asked which part of her body she would like to change. With unflagging confidence, she said, "I won't change my legs because I'm contented with my long-legged." The international judges obviously considered the grammatical flaw insignificant and instead took her striking personality and conviction into account. Hence, Melanie went home with the Philippines' 2nd Miss International crown under BPCI that year. To this date, she continues to entertain and give unusual insights on things that really matter.
Precious Lara Quigaman, Miss International of the New Millenium
After Melanie Marquez's Miss International win in the late 70's, Filipinos stayed hopeful all throughout 80's and 90's. Come 2005, Precious Lara Quigaman, a fresh faced 22-year-old who was originally based in the United Kingdom and later on lived an average life in Biñan, Laguna brought home the crown from that year's Miss International Pageant which was held in Tokyo, Japan, making her the 4th Filipina to win the crown after 26 years.
Lara is happily married to actor Marco Alcaraz and is now mom to 3-month-old baby Noah.
Venus Raj's Major, Major
Because she comes from a land of repeated names like Len-Len, Bongbong, and Moy-Moy, Miss Universe 2010 4th Runner Up successfully infected the rest of the world with the same syndrome in a major, major way.
Ever since her popularity skyrocketed after that unforgettable response to the Miss Universe Q&A, Venus has maintained an unfading celebrity status. These days, on top of her various endorsement projects, you can see her face on the boob tube every morning as she co-hosts Umagang Kay Ganda on ABS-CBN 2.
Shamcey Supsup's Multiple Achievements
We have a lot thank Miss Universe 2011 3rd Runner Up Shamcey Supsup's mom, Marcy, for. Mommy Marcy, with all her might, convinced her daughter – a magna cum laude graduate from the University of the Philippines with a degree in Architecture – to join the Binibining Pilipinas Pageant in 2011.
In the same year Shamcey won the Miss Universe-Philippines title, she also top-notched the architectural board exams. Shamcey shines on this 2013 as a World Food Programme volunteer.
Janine Tugonon Cobra Walks to Fame
Miss Universe 2012 1st Runner Up Janine Tugonon is presently the icing on the Philippines' roster of Miss Universe placers. But it's not just her remarkable poise and perfectly chiseled bone structure that helped her snag the 1st Runner Up title. During the Q & A portion at the Miss Universe 2012 Pageant held at Planet Hollywood Resort and Casino in Las Vegas Nevada, she impressed spectators with her straightforward answer, emphasizing the true definition of a Miss Universe winner: one who has a strong mind and a heart that's willing to serve.
The Binibining Pilipinas tradition currently lives on. Last February 11, 12, and 13, over a hundred lovely young potential beauty queens lined up for the 3-day of screening held at the Gateway Suites. On the day of the final screening which was held last February 21, only 70 qualified applicants were called back. And to commemorate BPCI's grand 50th golden anniversary, 50 official candidates will be chosen out of 70 to grace the pageant proper.
Among the judges present during the screenings were ABS-CBN head writer Chris Violago, ABS-CBN Special Projects Head Chit Guerrero, Miss Universe 2010 4th Runner Up Venus Raj, Miss Universe 2011 3rd Runner Up Shamcey Supsup, and Miss Universe 2012 1st Runner Up Janine Tugonon.
Coronation Night will be on April 14 to be aired live on ABS-CBN. The Binibining Pilipinas Pageant 2013 is brought to you by the Araneta Center.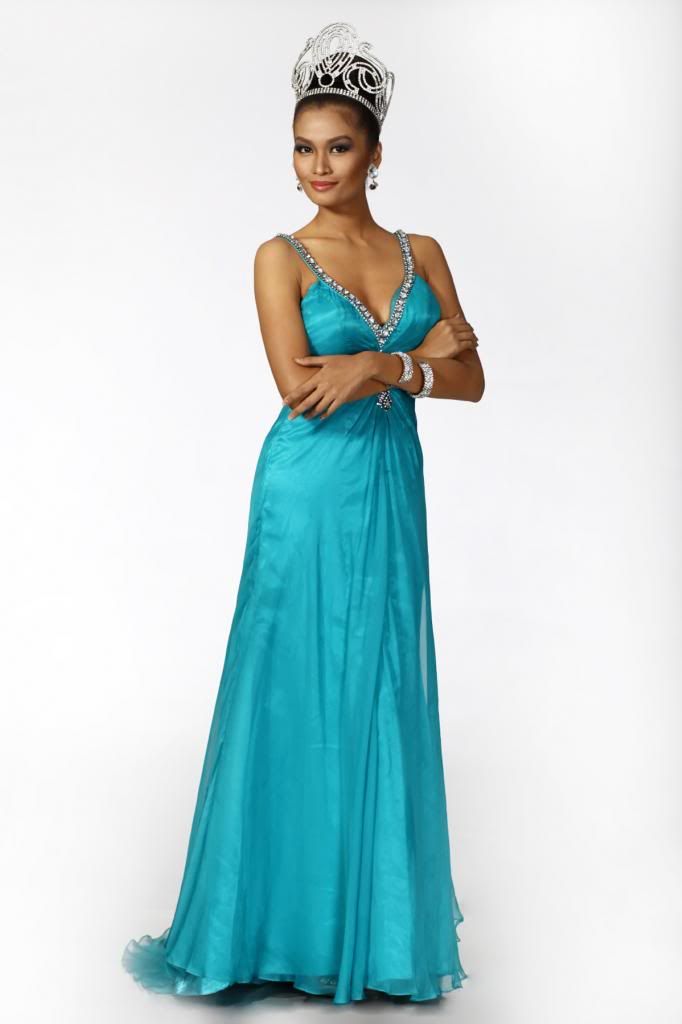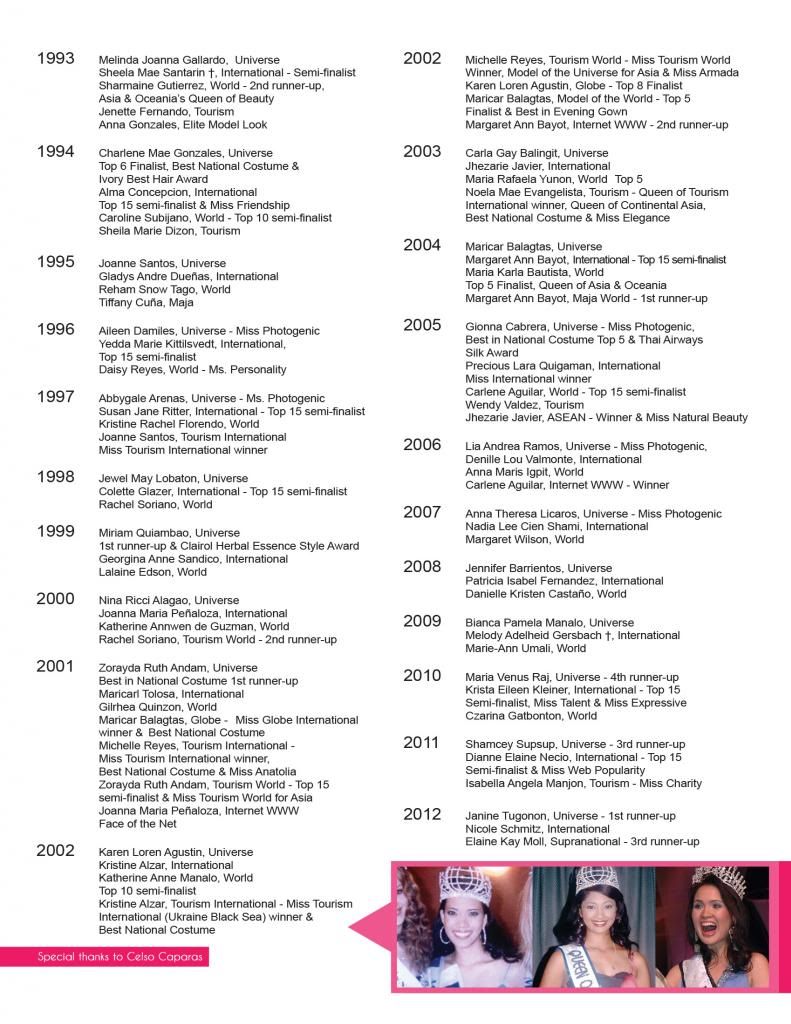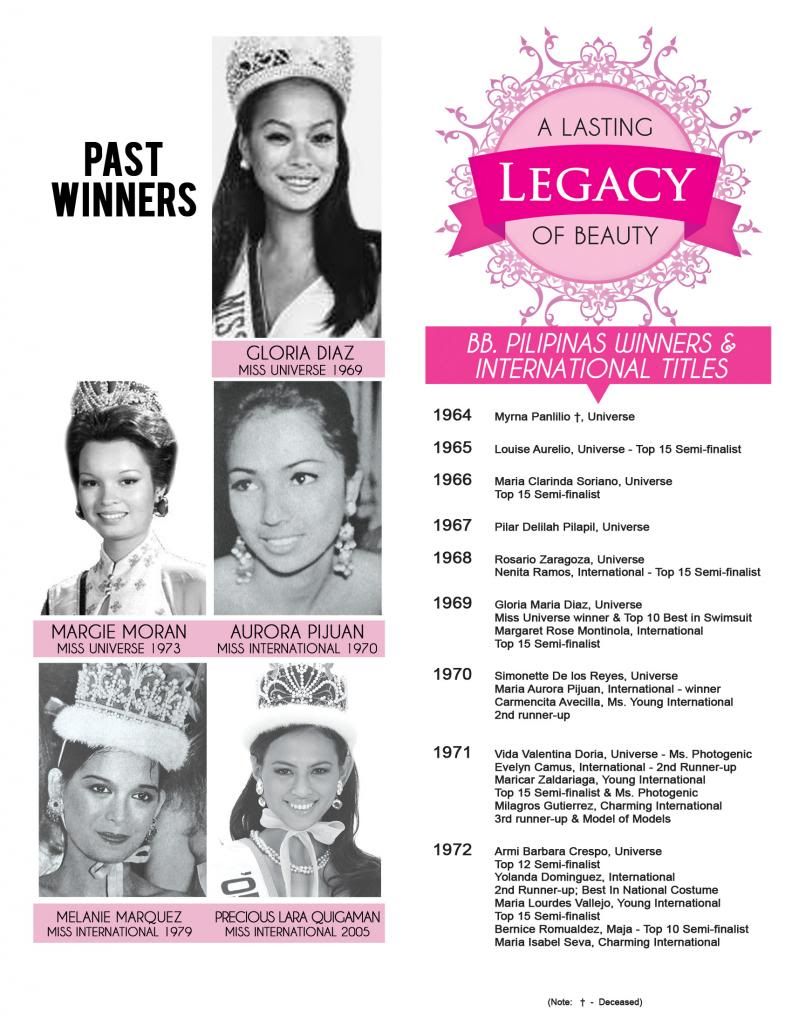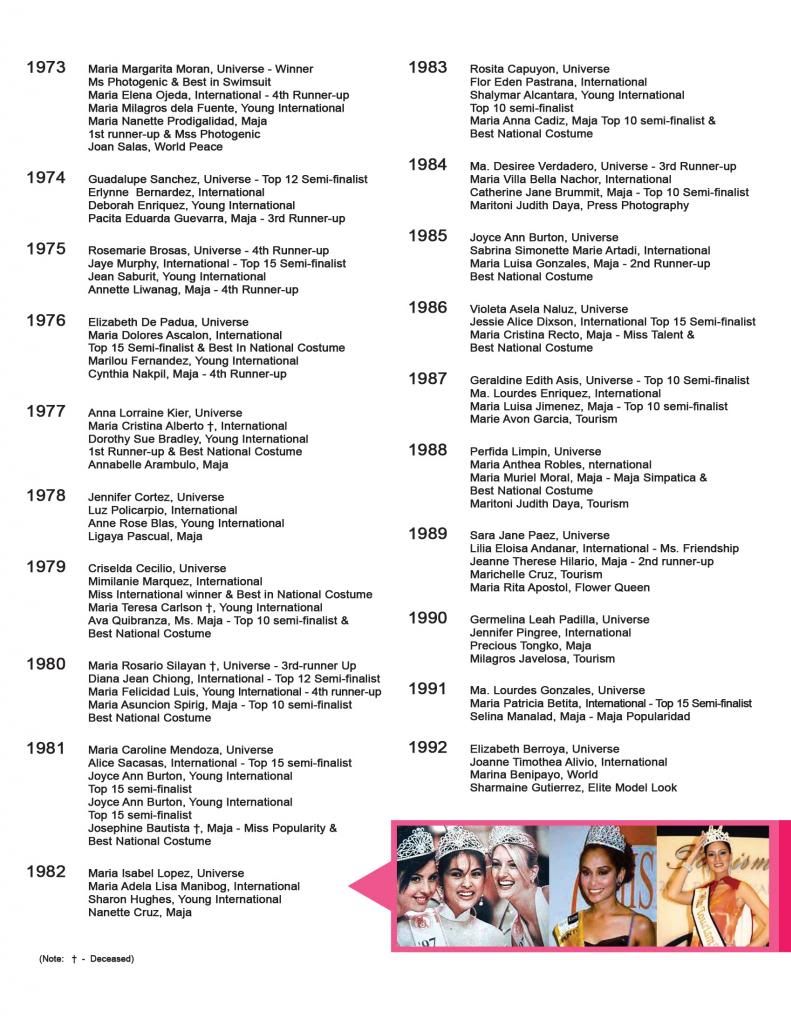 Reference: Tessa G. Mangahas
Public Relations and Corporate Communications Manager Araneta Group
09065591690/09088816501/
tmangahas@aranetagroup.com