"Sino nga ba s'ya sa puso mo
At kaya mong saktan ang tulad ko
Gayong lahat-lahat ng akin
At pag-ibig ay 'binigay sa'yo!"
Ouch! ang kulet noh yan lang naman ang pinangsagot ko sa Bakit ba pa? Ang hapdi naman, yan ang tema ng album na 'to. Sana huwag sayangin ang araw na ito sa kaka-emote ng past pagnapakinggan to. Ngumiti ka sa paligid para masaya. Huwag ikulong ang sarili sa bakas ng kahapon. Minsan lang sa isang taon ang
Happy Heart's Day
...anyway gudluck sa pakikinig.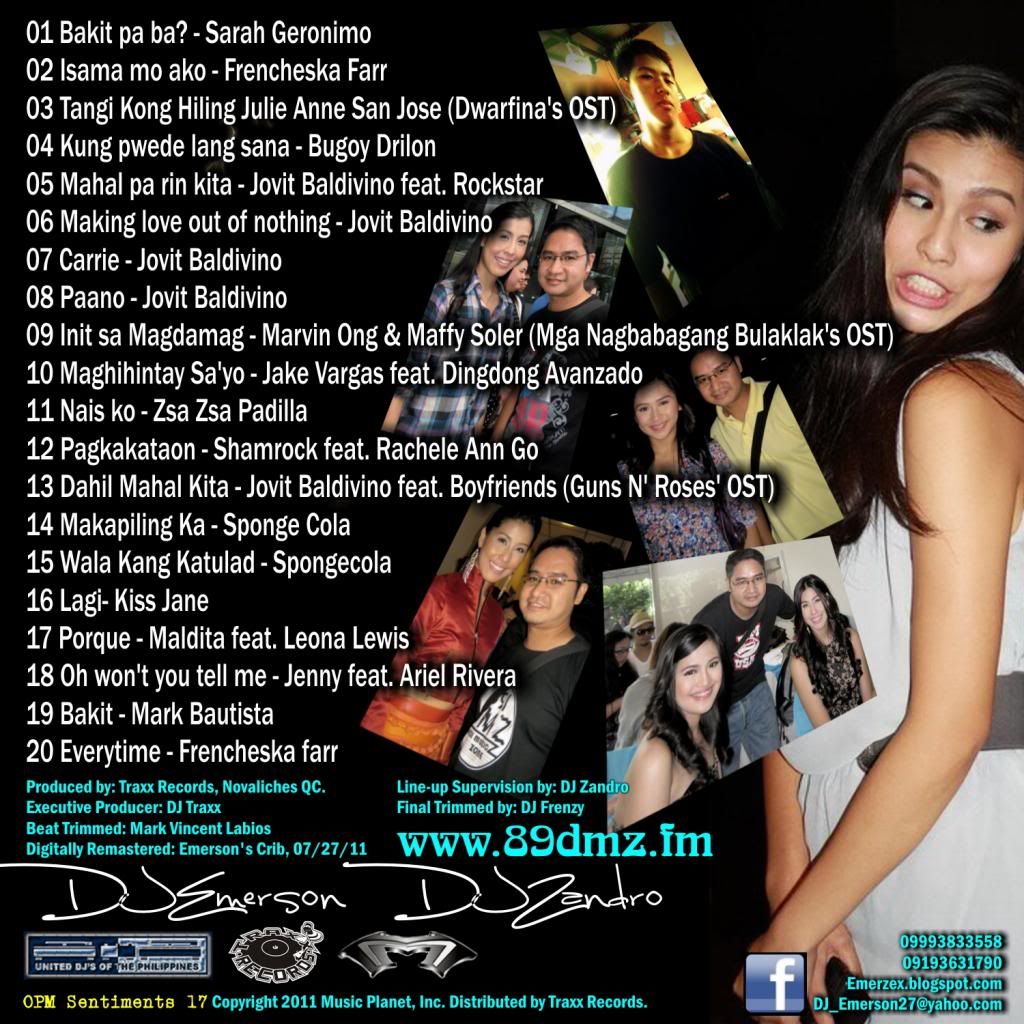 Mark Vincent Labios: Initial Trimmer
Rommel De Los Santos: Final Trimmer
Parameter of One effect only:
Master: Inf. -6
Track EQ: [Sys] Default all parameters
Parametric: [Sys] 200 Hz high-pass
Flange/Wah-Wah: Emerzex's Hell Ground / Flange 0.0 dB / Rate: 0.089 / Depth: 63%
Center Frequency: 654 / Resonance: 71 %
Porque - Maldita feat. Leona Lewis:
I've used Bleeding beat with Emerzex's own style of hell flanger under the soil and little bit of "Porque" sample over the instrumental intro by Maldita, start-up with Mad world's percusions with DJ Krush Groove's stinger and stop by reverb, a little of scratch at the middle part of Porque. I put mash-up's Leona's Bleeding love to complete the mix take note the Porque instrumental was still there! LOL
Oh won't you tell me - Jenny feat. Ariel Rivera
DJ Emerson's ever favorite music by Jenny... Hayyee!, according to him this song was very sentimental, emptiness and loneliness what he feels everytime he hear that tune Hahaha! (Is that true?), As usual he put Flange- Wah effect over and over again (Di ka ba nagsasawa? Kada sasagot u put phone effect and Zip effect to shut-off the music) Ariel's "Wala kang katulad" was here according to DJ Emerson no relevance about the music but the melody (Magkatono daw yung dalawa, try to hear this!)
Bakit - Mark Bautista
Thanks to the two impt. persons of DJ Emerson who trimmed his beat over and over DJ Frenzy and DJ Nono I paid this two just to clean the mix..just to listen over and over and over gain! (Sila nagtatangal ng scratch and scratch and scratch and effects and effects of DJ Emerson hanggang sa wala ng natira!!! Hahah fully remastered!)
Kahit May Mahal Ka Ng Iba - Mark Bautista feat. Jos Garcia 88 BPM
Single cut preview from OPM Sentiments 18, Thanks DJ Zandro for the music I really like the melody, whooahh the video was so amazing Sam Pinto was there, I start-up with cold 32-32 clean intros, the beat was taken from DJ traxx's beat banks library from my drive. As usual I used Flange-wah's Emerzex' fx to feel the deep of music depends on the emotion of the singer. To complete the mix I mash-up's "Ikaw lang ang iibigin" by Jos Garcia at the 3rd chorus, Hehehe mabibitin kyo sa pagkanta ni Mark sa... Iibigin ko'y...iibigin ko'y (Simple cut with panning reverve with flange-wah fx then echo cut)
Ikaw lang ang iibigin by Jos Garcia - I've used chorus only totally slow flange, I sample 2nd intro with high pitch bend flange-wah radio fx.
Ungredients:
Traxx slow beat
Loop of 88 beat (Parametric)
No wind and cricket fx
Slow beat (Underground and distorted beat applied 2:57 & 5:22 secs)
Zip
Additional information:
The ending of Kahit may mahal ka ng iba (Forum at DJ Frenzy's house) kung ano mangyayari sa dulo, is it wah effect, power shut-off or sampled then zip?
Outro: 32-32 Cold then Zip
Finalized and Trimmed by DJ Frenzy again, he remove my scratching fx. I admit the mix was very simple kc dami n nmang tinanggal ni DJ Frenzy d2. DJ frenzy removed (Aa-yee, Edit by Janet Jackson, 1-2-3-4 count and break!) according to DJ Frenzy, this is OPM Sentiments so why do we use effects like that then put scratching what a weird mix, so better watch-out our mix. Pati bedroom voice kong "DJ Emerson" tinanggal na rin nya kc pampagulo din daw.
PS. I'll post my full scratching fx of Kahit my mahal ka ng iba at my blog.
Total Remix Running time: 1 hour and 15 minutes
Remix hours: 30 minutes
Forums and removal of effects: 45 minutes (DJ Frenzy's Crib)
Titles and Artists:
01 Bakit pa ba? - sarah Geronimo
02 Isama mo ako - Frencheska Farr
03 Tangi Kong Hiling Julie Anne San Jose (Dwarfina's OST)
04 Kung pwede lang sana - Bugoy Drilon
05 Mahal pa rin kita - Jovit Baldivino feat. Rockstar
06 Making love out of nothing - Jovit Baldivino
07 Carrie - Jovit Baldivino
08 Paano - Jovit Baldivino
09 Init sa Magdamag - Marvin Ong & Maffy Soler (Mga Nagbabagang Bulaklak's OST)
10 Maghihintay Sa'yo - Jake Vargas feat. Dingdong Avanzado
11 Nais ko - Zsa Zsa Padilla
12 Pagkakataon - Shamrock feat. Rachele Ann Go
13 Dahil Mahal Kita - Jovit Baldivino feat. Boyfriends (Guns N' Roses' OST)
14 Makapiling Ka - Sponge Cola
15 Wala Kang Katulad - Spongecola
16 Lagi- Kiss Jane
17 Porque - Maldita feat. Leona Lewis
18 Oh won't you tell me - Jenny feat. Ariel Rivera
19 Bakit - Mark Bautista
20 Everytime - Frencheska farr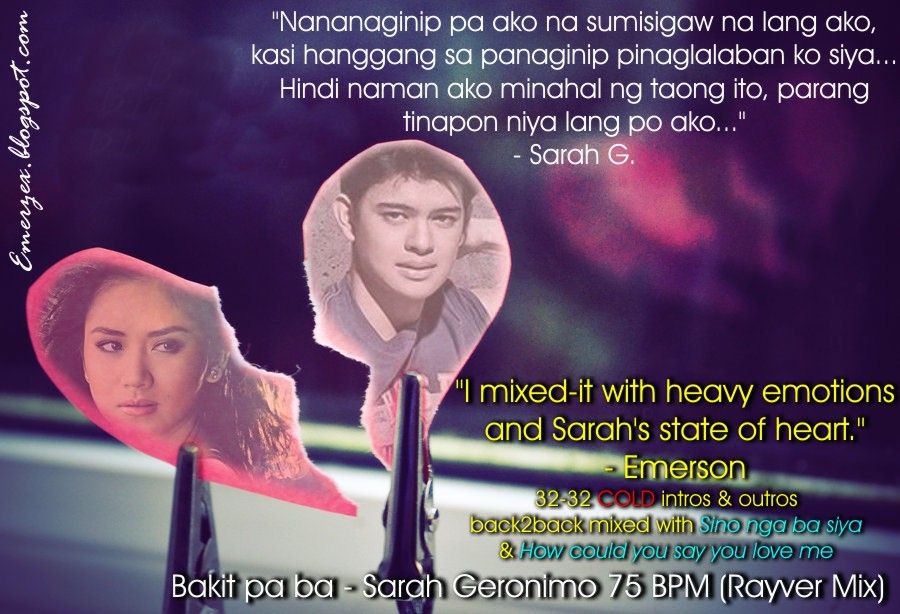 Happy Heart's Day and Happy Listening!